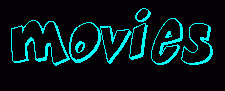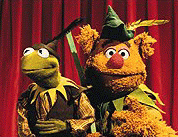 The Muppet Movie(1979)
The Great Muppet Caper(1981)
The Muppets Take Manhattan(1984)
The Muppet Christmas Carol(1992)
Muppet Treasure Island(1996)
Muppets in Space(1999)
Sesame Street presents Follow that Bird
Big Bird Goes to China
Big Bird Goes to Japan
The Muppets in the Metropolitan Museum of Art
Labyrinth(1986)
The Dark Crystal(1982)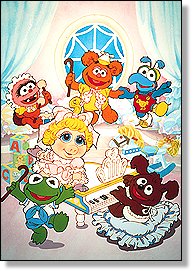 Sesame Street
The Muppet Show
The Frog Prince(1972)
Cinderella
Emmet Otter's Jug Band Christmas (1977)
Jim Henson's The Storyteller
Fraggle Rock(1983)
Muppet Babies
Tales of the Bunny Picnic
MuppetVision*3-D (1991)
Muppets Tonight


The Muppet Movie
Directed by James Frawley, written by Jack Burns and Jerry Juhl
Starring: Charles Durning, Milton Berle, Mel Brooks, James Coburn, Dom Deluise, Austin Pendleton, and the Muppets
SUMMARY: Kermit the Frog is persuaded by a hollywood agent to pursue a career in Hollywood. Along the way, Kermit picks up a crew of other Muppets with similar aspirations. Meanwhile, Kermit is pursued by a frog-leg restaurant owner who wants him to be his spokesman, and they have a western style showdown.



The Great Muppet Caper
Directed by Jim Henson, written by Jerry Juhl and Tom Patchett
Starring: Diana Rigg, Charles Grodin, John Cleese, and the Muppets
SUMMARY: Kermit and Fozzie are newspaper reporters sent to London to interview Lady Holiday, a wealthy fashion designer whose priceless diamond necklace is stolen. Kermit meets and falls in love with her secretary, Miss Piggy, who pretends to be Lady Holliday. While the two are at dinner, the jewel thieves strike again, and frame Miss Piggy at a fashion show. Kermit and Muppets must assist Piggy, who escapes from jail, to catch the theives before they steal the fabulous Baseball diamond.


The Muppets Take Manhattan
Directed by Frank Oz, written by Tom Patchett and Jerry Juhl
Starring: Juliana Donald, Lonny Price, Joan Rivers, Dabney Coleman, Gregory Hines, and the Muppets
SUMMARY: The Muppets graduate from college and decide to take their senior show to Broadway. They hit the streets of Manhattan trying to sell their show to producers, but have no luck. Broke, the gang disbands and goes off to pursue different things. Kermit finally finding one backer young and idealistic enough to produce the show. He sends for the rest of the Muppets, and after several mishaps and confusion, things begin to come together for them.



The Muppet Christmas Carol
Directed by Brian Henson, written by Charles Dickens and Jerry Juhl
Starring: Michael Caine and the Muppets
SUMMARY: Ebenezer Scrooge, a crohchety miser, is held accountable for his ways during night-time visitations by the Ghosts of Christmas Past, Present, and future, while his assistant, Bob Cratchett, and his family struggle to get along. Narrated by Rizzo and Gonzo.



Muppet Treasure Island
Directed by Brian Henson, written by James Heart and Jerry Juhl
Starring: Tim Curry, Kevin Bishop, Billy Connolly, Jennifer Saunders, and the Muppets
SUMMARY: Jim Hawkins and his friends are given a treasure map and set off to find adventure, helped by a rich half-wit son with a man living in his finger, a frog captain, and the leader of a group of island pigs. They run into a band of pirates who fight them for the treasure.



Muppets From Space
Directed by Tim Hill, written by Jerry Juhl and Joey Mazzarino
Starring: F. Murray Abraham, Rob Schneider, Josh Charles, Ray Liotta, David Arquette, Andie MacDowell, Kathy Griffin, and the Muppets
SUMMARY: Gonzo is sick of being a "whatever" and longs to figure out what he really is. When he is contacted by his cereal and some cosmic fish, he realizes he is an alien. Meanwhile, Miss Piggy is working as the coffee pig for a local TV station, and an accidental visit from Gonzo makes her the star. Gonzo and Rizzo are captured by a secret government agency – Gonzo to have his brain studied and Rizzo as a lab rat. The gang goes to rescue them with the help of some of Dr. Bunsen Honeydew's gadgets. Gonzo finally finds out what he is, and must choose between his people and his friends.



Emmet Otter's Jug Band Christmas
*SHOWING ON ODDESSY (CH 60) THIS SUNDAY@ 8pm)* SUMMARY: Emmet Otter and his Ma are poor but happy living on the river. But as Christmas nears, both of them want to get something special for each other. A talent show offers a $50 prize, so Ma gets a song ready and Emmet forms a jug-band with his friends. But the Riverbottom Gang, a bunch of rich kids with better equipment threaten their grasp on the prize.



Tales of the Bunny Picnic
SUMMARY: Bean Bunny is too small to be useful preparing for the Bunny Picnic, so he wanders off and encounters the farmer's dog. Nobody believes him when he tries to tell them he's seen the dog, until the dog breaks up the picnic. Bean must come up with a plan to defeat the farmer's dog, discovering what the dog is afraid of.